July 13, 2021
Posted by:

Sarbavoum Bidhar

Category:

Mortgage Debt Management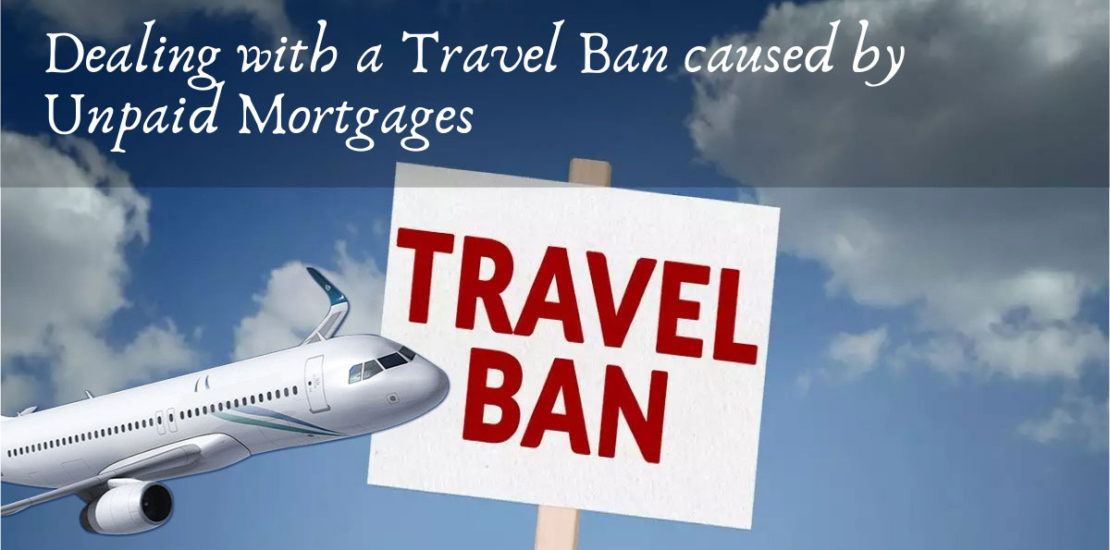 The COVID-19 pandemic has caused financial adversities to many individuals and businesses. Among the worst-hit are those who have seen pay cuts or job losses and must fulfill their mortgage commitments. Some are even facing a travel ban as their lenders have resorted to legal means to recover their loans. In this article, we discuss how to deal with a travel ban caused by unpaid mortgages.
Explained: Travel Bans Related to Unpaid Debts
When borrowers fail to pay their mortgage dues, lenders have various legal options to recover their money. A travel ban is one option banks may use to avoid losing their money. Till the time the borrower is in the UAE, lenders can get financial protection under UAE laws. However, if the borrower leaves the UAE, it becomes difficult for the lender to get their money back from a legal and logistical point of view. There are two ways banks can impose a travel ban on borrowers.
Travel Ban caused by a Criminal Case
If you have defaulted on some of your mortgage installments, as a next step, your bank will deposit the security cheque you have given to them when obtaining the loan. If the security cheque is returned due to insufficient funds, the lending bank can file a criminal case against you, leading to a travel ban.
Travel Ban caused by A Civil Case
In some cases, if the amount of the security cheque is lower than a specified amount, you can pay a financial penalty to resolve the criminal case. This step can lead to the lifting of the travel ban. However, remember, the bank still must recover its original amount. To do so, they can file a civil case which can lead to another travel ban.
Borrowers' Options to Deal with a Travel Ban
Here are a few ways to deal with travel bans caused by unpaid debt.
Filing an Objection with Higher Judges
Under UAE's law, a lender must convince the court that the borrower will abscond if they do not impose a travel ban. Also, the amount of debt should be above a specified amount for the creditor to ask for a travel ban. If the court imposes a travel ban, you can file an objection with a higher judge. If you get respite from the higher judge, you will get some time to structure your finances. However, if the higher court also sticks to the travel ban, you must find ways to settle your mortgage dues.
Repayment of Mortgage Loan
A travel ban caused by unpaid debt obligations is less severe than travel bans caused due to immigration offenses such as working without a valid work permit or overstaying after the expiry of a visa. Such a travel ban could extend to a lifetime. However, a travel ban related to unpaid mortgages can be lifted upon repayment of the mortgage loan.
Negotiating a Debt Management Plan
One way of removing a travel ban is the creditor taking back their original request to prevent the borrower from exiting the UAE. For the creditor to lift the travel ban request, you need to convince them of your ability to settle their debt. You can negotiate a debt management plan with your mortgage lender that allows you to either restructure or pay your loan. Restructuring a loan involves increasing the loan tenure or reducing the monthly payments. Alternatively, you can settle the loan by selling your property at a reasonable price. If you can negotiate a mortgage debt management solution with your lender, you will be free to travel to your home country.
Get Professional Help from FREED!
Negotiating a mortgage debt management solution with lenders requires skills and expertise. Many may not succeed in negotiating with their banks and may have to suffer for long due to a travel ban. Some may succeed in negotiating a settlement with their lenders but may end up with an unfavorable deal.
FREED's professional team of mortgage debt experts has more than 40 years of UAE experience in real estate and banking. If you are banned from traveling outside of the UAE or facing a travel ban soon, FREED can help you negotiate a mortgage debt management solution with your lender.