September 21, 2021
Posted by:

Sarbavoum Bidhar

Category:

Debt settlement programs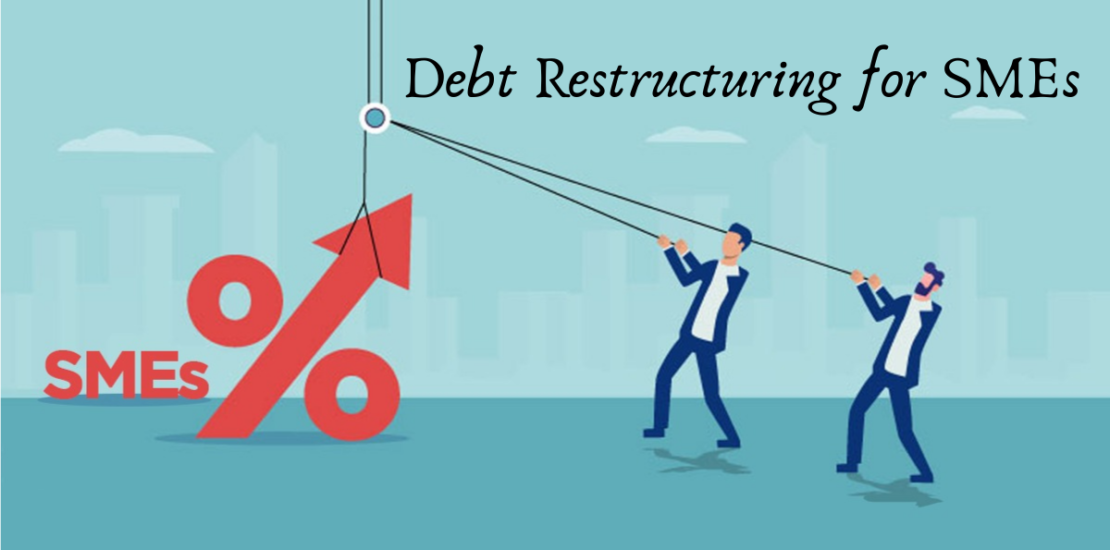 It is widely known that small and medium enterprises (SMEs) play a vital role in the UAE's economy. While SMEs make up 95% of UAE's companies and employ 86% of the country's workforce , many find it hard to get easy access to credit. COVID-19 made things even more difficult for them. At the peak of lockdowns, more than 70% of businesses (in a survey of 1,200+ CEOs) expected to wind up their business within 6 months.
Corporate debt restructuring can be a major source of relief for SMEs dealing with multiple liabilities with banks. This article explains how bank debt restructuring can ease the credit woes of SMEs and help them focus on their core business.
Corporate Debt Restructuring Explained
Corporate debt restructuring is reorganizing a company's debt to bring it to manageable levels. Bank loan restructuring for corporates can involve multiple solutions include reduction in debt, reduction in interest rate, or increasing the tenure of a debt.
When a business struggles to manage its liabilities, it can approach a bank or a debt consultant for bank loan structuring.
Benefits of Corporate Debt Restructuring
Mid-corporates and SMEs can get numerous benefits from corporate debt restructuring.
Avoiding Bankruptcy
Piling on debts can eventually lead a company to bankruptcy. As per UAE's laws, bankruptcy can have various economic and reputational consequences. For example, the business will have to sell all its assets to pay the creditors. Furthermore, during bankruptcy proceedings, the owner will have no control over managing the business. Also, the bankruptcy law involves publishing debt-related information (both the amount of debt and the number of creditors) in newspapers in Arabic and English. This can cause tremendous reputational damage to both the debtors and the business.
Consolidation of Debts
Bank loan restructuring allows the consolidation of different debts from different banks. This means SMEs don't have to worry about managing multiple repayment dates or dealing with different banks. They have to track a single repayment, and they can focus on running their business.
Easing of Cash Flows
If bank debt restructuring involves a reduction in interest rates or an increase in tenure, it can reduce the monthly interest outgo. A business can use the excess cash flows to negotiate better terms with suppliers, employ more staff, or for marketing activities, among other things.
Freeing up of Time
When a business is burdened with debt from multiple banks, it can take a lot of time to manage the expectations of different bankers. Things get particularly tough when the business is not able to fulfill its monthly repayments. They will be required to discuss their situation with multiple banks and negotiate terms with each bank separately. This process can take up a lot of time, which could otherwise be spent productively on the business.
Contact FREED for Corporate Bank Loan Restructuring
To conclude, bank debt restructuring offers many advantages to SMEs and mid corporates. However, it can be a challenge for SMEs to renegotiate their debts. They may not have adequate knowledge of the steps involved in bank loan restructuring. Also, the process of debt restructuring can take up the valuable time of small business owners. Partnering with professional debt negotiators can help businesses get long-term solutions.
FREED's team of debt counselors has helped many businesses restructure their debt and get back on their feet. They can help provide the right solution and also help business owners save time spent on bank loan restructuring.